About
Collaborative, Health Driven & Innovative Corporate Dining Concepts
At your place of business, there may be cafeterias; there may be cafés; but there is nothing quite like TABLE TALK Corporate Dining.

The concept is simple: Let us create a healthy and delicious dining experience for your employees on site, using sustainably farmed, locally sourced ingredients to fuel their minds and bodies — ingredients to nurture their personal and business success.

With a TABLE TALK restaurant on site, colleagues can dine in a relaxed atmosphere and always have a better alternative than driving off premises to find a quality meal. We set an elegant table with convenience, collaboration, and palate-pleasing nutrition in mind — right in your facility.

For example, our flagship corporate restaurant, Fotia, located at Novartis Pharmaceuticals Corporation's Regional Headquarters in East Hanover, New Jersey, is an outstanding example of how fine dining and smart business go hand-in-hand. Productivity increases when associates stay "local" and minimize travel to expensive, off-site restaurants. Free to discuss business in a confidential setting, colleagues can share ideas and enjoy a high quality meal at a reasonable price.

How do we do it? You provide the establishment. We provide the food and service. The rest is culinary history.

Breakfast, lunch and dinner, along with special events:
• Dine in
• Take out
• Cater

The choice is yours.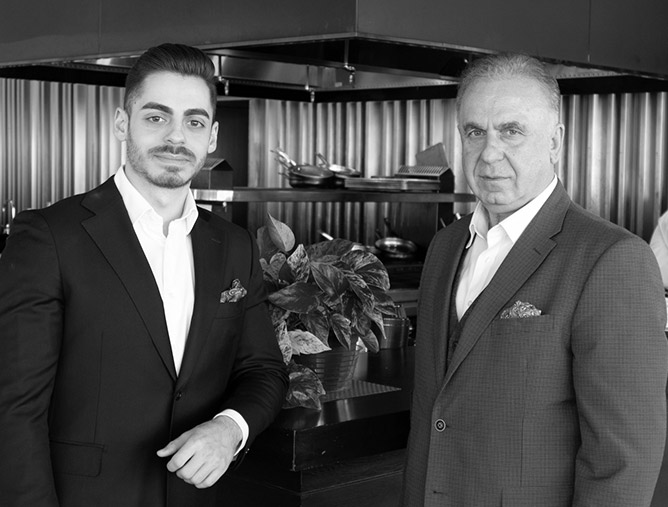 Christos & Michael Karnessis
Michael and his father Christos, currently own and manage the critically acclaimed Lithos Estiatorio in Livingston, New Jersey, as well as Fotia Restaurant on the campus of Novartis Pharmaceuticals Company in East Hanover, New Jersey.

It all started when Christos immigrated in 1978 to the United States from Greece. As a young, college student, he studied accounting while working nights as a dishwasher in a restaurant owned by his classmate's father. There his passion for food service ignited, but his education came first. After earning his degree, Christos launched a successful career as an accountant. With this success, he purchased his first restaurant in 1996 and later opened the doors to the elegant Lithos in 2011, following up with Fotia in 2013.

His son, Michael, grew up working at Lithos during the school year and spent his summers in Greece, which proved to be a good foundation for joining his father in the business. After graduating from Hofstra University with a degree in Business Management, he enrolled in the Global Hospitality Management School — Les Roches Bluche in Switzerland to earn his MBA.

Today, Michael operates both restaurants and is in the process of expanding the vision that is TABLE TALK Corporate Dining. As your restaurant host, Michael looks forward to engaging with guests and sharing stories about food, family and life. His mission: to create delectable dishes for your associates in a warm, welcoming atmosphere that is conducive to relaxed dining and stimulating conversation at your company site.
Our Vision
TABLE TALK restaurants are staffed by professionals who have a passion for food and who care about their corporate customers, offering an exceptional dining experience.

Established in 2011, we specialize in health conscious, Mediterranean style cooking "on premises."" Our lunch and dinner menus are rooted in traditional rustic dishes, transformed for the modern palate.

Based on our success with Novartis, we are expanding to bring this authentic cuisine and upscale dining experience to corporate facilities like yours. With this unique partnership, we aim to elevate standards in corporate dining and redefine the question: "where shall we eat today?""

TABLE TALK offers your associates:
• Imaginative, seasonal dishes with emphasis on health conscious recipes
• Greater value than outside restaurants
• High quality, upscale dining
• Relative privacy for confidential discussions
• Highly professional service
• An attentive waitstaff
• A light, airy, relaxed atmosphere
• Table linens
• Three meals a day plus catering for special events

We offer you, our corporate partners:
• Over twenty years experience as purveyors of fine dining
• ServSafe Certification
• High quality on-site dining to maximize productivity
• Significant cost savings for you and our guests
• Transparency of reporting
• An ability to work in alignment with your preferred food service provider
• Fully vetted food suppliers and professional staff
• Our commitment to environmental sustainability
• Our passion for everything food!
alt
Sustainability
TABLE TALK shares your company's commitment to environmental sustainability and regulatory compliance.

Certification:
• Our management is ServSafe certified. ServSafe is the food and beverage safety training and certificate program administered by the National Restaurant Association. The program is accredited by ANSI and the Conference for Food Protection.

Compliance: • Our staff maintains compliance with all local, state and federal food industry regulations in terms of safety, food handling and disposal/recycling of packaging and oil.

Environmental Responsibility:
• We've converted to biodegradable cardboard for take-out cups and containers. Straws are paper, not plastic. All Styrofoam has been removed from our catering and take-out service.
• We minimize waste. Food is prepared for catered events in just the right amount. Never too little. Never in excess.
• Suppliers provide locally farmed produce, fish and meat from sustainable sources, ensuring our promise to provide our customers with the freshest of ingredients.

Our staff is totally aligned with our vision and mission. We are an Equal Opportunity employer, offering career development and competitive salaries to minimize turnover and maximize the success of every restaurant we open.